See on Scoop.it – An exciting accounting and management experience for small to medium sized businesses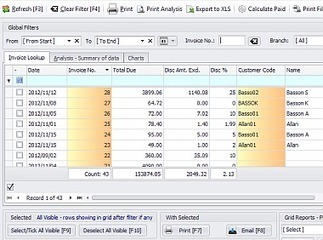 Mark John Waite's insight:
Invoice Point of Sale / POS / P.O.S
Smart-IT Acccounting has an advanced module suitable for point of sale ( POS ) for fast and easy invoicing designed for all types of retail stores. Our Point of sale system are easy to use with numerous keyboard shortcuts for fast entry. The POS software supports bar code readers/scanners for faster checkout and inventory control.
HighlightsUnified Customer (Debtor) Invoicing and Cash InvoicesRetrieve archived invoices with numerous filtersCredit notes (unique feature: Get info directly from Inv. )Multiple PLU's / barcodesLoyalty cardsGift vouchersUnique filtering options to answer questions such as: How many invoices on a certain date for a spesific employee was below a certain amount etc.Optimized workflowone button previous invoice printingintegrated stock searchfast customer lookup via barcode scan or loyalty cardextensive customer lookupRecurring invoices – One click processing, month based frequency, bulk change orderno and next payment date
See on www.smart-it.co.za